Come to Technarte and find out how smart materials, together with 3D printing and fabrication technologies, can be exploited in the creative realisation of kinetic and interactive art and design objects. The smart materials are characterized by exhibiting changes in their physical properties in response to external stimuli. Peter Walters will show how materials displaying changes in size or shape when stimulated by heat or electricity may be employed as "artificial muscles" providing movement or changes in shape in physical objects.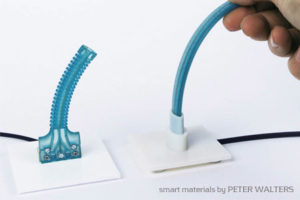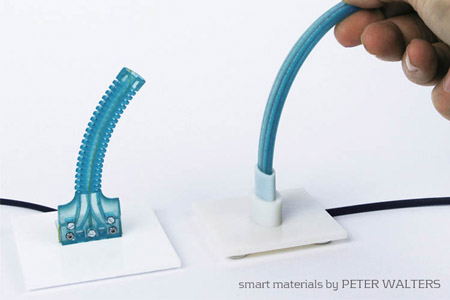 He will present two examples; the first is a novel tentacle-like "smart puppet" which exploits shape-memory alloy artificial muscles and soft 3D printing, enabling it to exhibit life-like movement when controlled by a purpose-built flexible wand. The second example is a biologically-driven "artificial heartbeat" which exploits pneumatic pressure generated by live yeast and a shape-memory alloy smart valve to effect a novel pulsating action.
PPeter Walters is a research fellow in 3D printing at the Centre for Fine Print Research, University of the West of England, and a visiting researcher at Bristol Robotics Laboratory. His research explores creative applications for 3D printing and smart "artificial muscle" materials in design and the visual arts. He has an academic and professional background in industrial design, computer aided design and 3D printing technologies, and enjoys interdisciplinary collaborations with specialists in visual arts, robotics, engineering and biomedical technologies. 
Register today in Technarte and you will have the opportunity to meet most relevant professionals of art and technology world.