Sophia Brueckner is a futurist artist, designer, and engineer. Inseparable from computers since the age of two, she believes she is a cyborg. At Google, she designed and implemented products used by tens of millions. At RISD and the MIT Media Lab, she combined the understanding that interfaces structure thought processes with ideas from cognitive behavioral therapy and embodied cognition to build haptic devices for mental health. Since 2011, she has taught an internationally renowned class on sci-fi prototyping and the ethics of design/invention. Her work was featured by The Atlantic, NPR, Wired, and more. Her objective is to combine her background in design and engineering with the perspective of an artist to create technologies that inspire a more positive future.
Rachel Freire is an artist and designer who uses the body as a canvas. Her work combines material innovation and electronics with traditional craftsmanship, focusing on provocative narratives, value attribution, and sustainable processes. Freire studied Design for Performance at Central Saint Martins, launching her conceptual fashion label on the catwalks of London Fashion Week 2009. She has been featured by W, Vogue Italia, Interview, and Make. She is the textile designer of mi.mu gloves, a gestural interface to compose and perform music with your hands. Her work tells stories and inspires them.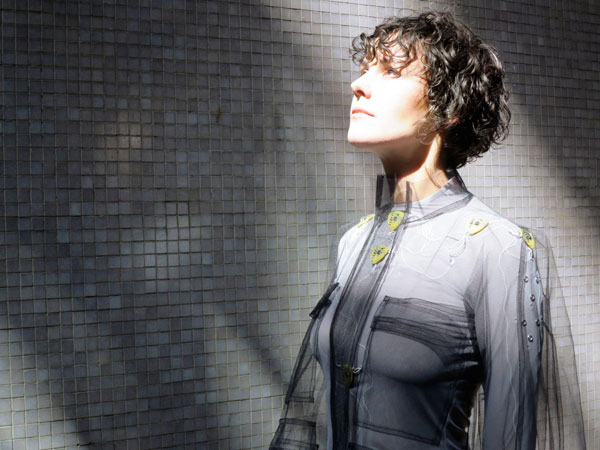 The rich history of clothing combined with the practicality and extravagance fashion are essential to the future success of wearable technology. Brueckner and Freire explore the highly visible nature of fashion fused with the invisible yet potent characteristics of haptics, empowering the wearer to define the cyborg self.
embodisuit v.1 2-08-17 from rachel freire on Vimeo.
A collaboration between Sophia Brueckner and Rachel Freire, the Embodisuit, allows its wearer to map signals onto different places on their body. Informed by embodied cognition, the suit receives signals from an IoT platform, and each signal controls a different haptic actuator on the body. Knowledge is experienced ambiently without necessitating the interpretation of symbols by the conscious mind. The suit empowers wearers to reconfigure the boundaries of their selves strengthening their connection to the people, places, and things that are meaningful to them. It both critiques and offers an alternative to current trends in wearable technology. Most wearables harvest data from their users to be sent and processed elsewhere. The Embodisuit flips this paradigm such that data is taken in through the body instead. Furthermore, we hypothesize that by changing the way people live with data, it will change the type of data that people create.