Louise Harris is an electronic and audiovisual composer. She is also Lecturer in Sonic and Audiovisual Practices at The University of Glasgow.
Louise specialises in the creation and exploration of audiovisual relationships utilising electronic music and computer-generated visual environments, and her work encompasses fixed media, live performance and large-scale installation formats. Louise's work has been
performed and exhibited nationally and internationally, including at the AV Festival, Newcastle (2010), International Computer Music Conference (ICMC), Huddersfield, UK (2011), Naisa SOUNDplay festival, Toronto, Canada (2011, 2015), Strasbourg Museum of Modern Art, Strasbourg, France (2012, 2013, 2014), Piksel Festival, Bergen, Norway (2012, 2013, 2014), Linux Audio Conference (2013, 2014, 2017), Sonorities Festival, Belfast, UK (2014, 2015, 2016), Sweet Thunder Festival, San Francisco, USA (2014) and Kiblix Festival,
Maribor, Slovenia (2015).
Recent commissions include 30-minute radio art works for Stazione di Topolo and RadioArts. Louise was the first female recipient of the Klingler Electroacoustic Residency in 2016, has been shortlisted for the Lumen Prize (2012) and was awarded the World Prize at the Electroacoustic Competition Musica Viva (2011). Most recently, her piece Pletten was awarded first prize at the 2016 Fresh Minds Festival, and her solo exhibition, Auroculis (2017), was the first solo exhibition featured in the new Alchemy Film and Arts space in Hawick.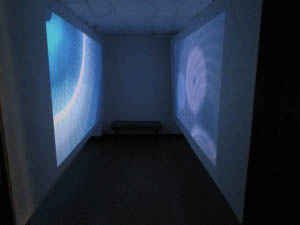 Her talk addressed three recent research trajectories in my creative practice-based research and their intersection between audiovisual art and scientific exploration. First, it will consider the emergence of works both conceived for and exhibited in Expanded Audiovisual Format (EAF), using the case study of my recent solo exhibition, Auroculis, as an example of utilising EAFs as a mechanism for enhanced
immersion in a public art context. Second, it will present a case study of an ongoing experimental collaboration with Epigeneticist Dr Duncan Sproul at Edinburgh University to utilise processes for simultaneous data audiovisualisation as a means of identifying faulty genome sequences in cancer research. Finally, it will consider the potential applications of cutting edge computer vision and human computer interaction techniques, in the context of works for EAF, in identifying and codifying responses to public art works, through a collaboration with Dr Julie Williamson, Lecturer in Computer Science at Glasgow University. The overarching thread of the presentation will be a consideration of the possible applications of audiovisual art in scientific research, and how meaningful arts/science collaborations can be fostered and developed across a range of disciplines.