Ambra Trotto's fascinations lie in how to empower ethics, through design, using digital and non digital technologies as materials. Strongly believing in the power of Making, Ambra works with makers, builders, craftsmen, dancers and designers to shape societal transformation. Within her design research activity, she produces co-design methods to boost transdisciplinary design conversations.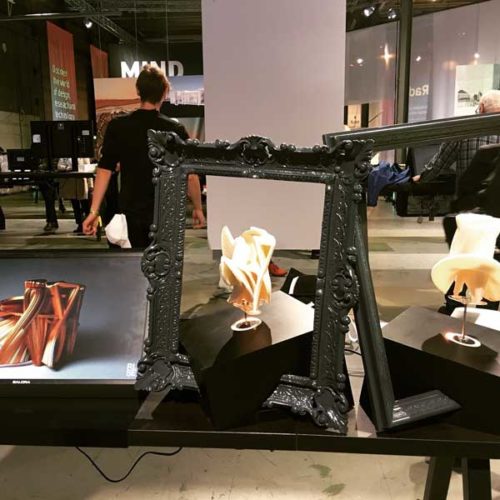 A tortuous path brought her from a little town in the province of Bologna, Italy, up to Umeå. From architecture, studied at the University of Florence, she slowly but certainly drifted towards interaction design. She fell for it at the Eindhoven University of Technology, where she defended her PhD thesis in 2011. She currently leads the Umeå studio of RISE Interactive, where they design the Unexpected for their partners.
Ambra is also associate professor at the Umeå School of Architecture, where she chairs the research coucil and she is representative for equal opportunities. She closely collaborates with the Designing Quality in Interaction group of the Eindhoven University of Technology.
Developing Tools for Embodied Spatial Design
Mocaptango is an ongoing design research project MoCap Tango, started in 2015. Tango is a form of partner dancing in which two bodies sense each other in a dynamic, physical dialogue that is known for its subtle complexities, beauty and intimate experience. In MoCap Tango, we explore how we can use our skills as designers to highlight and unravel these embedded qualities and use them as inspiration in designing interactions and new forms of spaces.
Context
The project focuses on tango as it is a partner dance, meaning that it revolves around the embodied dialogue between two dancers. Two of the authors dance tango and were involved in the organization of the yearly Midnight Light Tango Festival organized by Tango Norteño. This year, the festival was hosted at Sliperiet of Umeå University – the same venue as our research lab – presenting itself as the perfect opportunity to materialize our interest. Two world-class tango dancers, Murat Erdemsel and Sigrid van Tilbeurgh attended the Festival for workshops and demonstrations, and were eager to become part of the design project.