As an associate of Arup, Adam leads Arup's European Acoustic, Audiovisual and Theatre Consulting skills network. He draws from extensive project experience throughout the world, in several project types and across engineering, architectural and environmental disciplines.
Educated with a Masters in Acoustics, a Bachelor in Chemical Engineering and work experience in optics, music, Adam has a breadth of experience that informs his work across disciplines of acoustics, audio-visual design and theatre planning. He has designed the acoustics of several landmark buildings and worked in all major sectors of the built environment. Having lived and worked in the Americas, Europe and the Middle East, he has a broad knowledge of the construction practice worldwide.
Adam leads a team of specialists for Arup in Amsterdam and holds strategic leadership roles in Arup's global acoustics network.
Leslie Pavilion – spatial audio affect using architecture
The project pays homage to technological advancements in music nearly 100 years ago with a walk-in sculpture that produces an audio effect similar to the tremolo + vibrato effect of by the rotating loudspeakers in a Leslie cabinet famously used with Hammond organs in Jazz, blues, gospel and many other types of music. This installation takes the effect and adds the additional effect of making the sound spatial, or giving the perception of stereo tremelo/vibrato. The sculpture does this however without moving parts and with one speaker only. It uses the surrounding wood sculpture to focus and de-focus sound using a variable beamsteering speaker.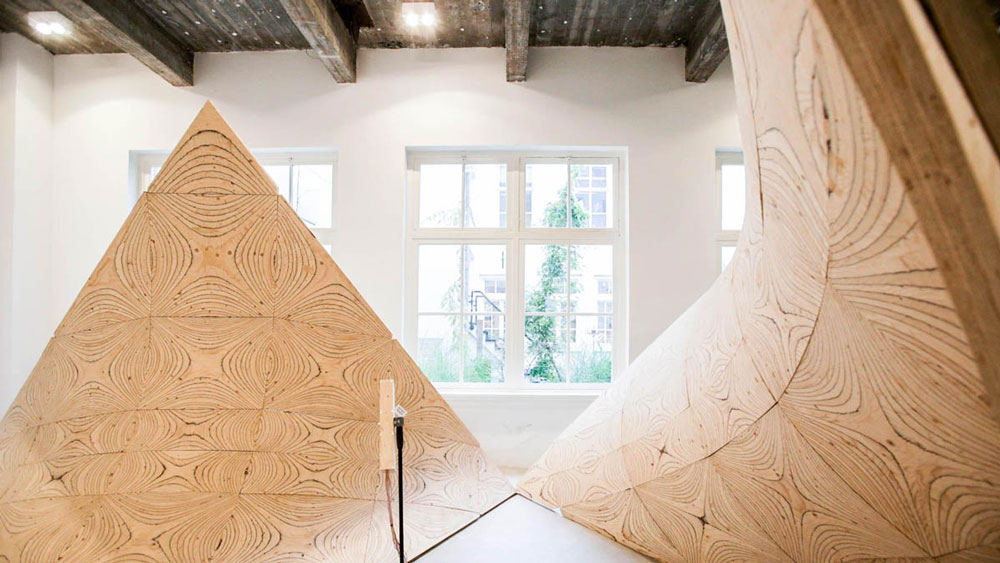 The structure of the sculpture also is technology driven. Generic geometric definitions to planarize (double curved) hypar shapes, optimizing the fabrication and construction process. Also, the preparation of the 2,5D-CNC-milling files were programmed by the team. Adding such digital capabilities to the design management processes and structural analysis processes make it possible to define a holistic approach for geometric complex designs. There was a strong gain related to skills in innovative fabrication methods (2,5D-axis CNC milling for 3D shapes), which will result in widening the possibilities of working with Fablabs more seamlessly.