There are growing application areas of 3Dprinting technology within the field of architecture. But not only to obtain a certain aesthetic value in terms of architecture design is concerned, but to creating healthier and safer spaces connecting architectural design with acoustic performance, digital design and additive manufacturing.
Architect Foteini Setaki is the creator of Studio Phi, a space focused on research between architecture, building technology and industrial design. Foteini Setaki works seeking balance between engineering and aesthetics, and is currently working on merging the fields of acoustics and 3D printing with architecture design.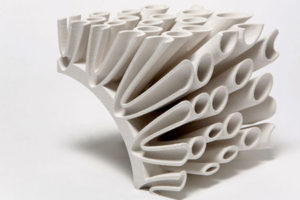 Absorbing Echoes is a project that promotes the acoustic as one of the important elements in the perception of the space around us, and as a criteria for architecture and contribute in building a safe, healthy and pleasant environment. The project explores the design and manufacture of materials and geometric shapes, capable of absorbing sound waves and creating acoustic landscapes.
Foteini Setaki will present in Technarte the creative and technological process of her current project Absorbing Echoes, and also the applicability for improving the quality of life of citizens.